Receiving support from the Berlin Senat, "IYouWeBe" presented a Jazz
opera in concert form at the Chamber Music Hall of Berliner Philharmonie,
October 2016.

"Take my Otherness"
A concertant Jazz Opera in 3 acts from and with "IYouWeBe"
Composition : Dorothea Mader, "IYouWeBe"
Lyrics : Vivien Lee, "IYouWeBe"
Dramaturgy: Vivien Lee, Dorothea Mader
Conductor :
Cymin Samawatie
facebook
soundcloud
Audio
Video Ouvertüre
Concert in the Passionskirche, 15.10.2016
Video 1.act
Video 2.act
Video 3.act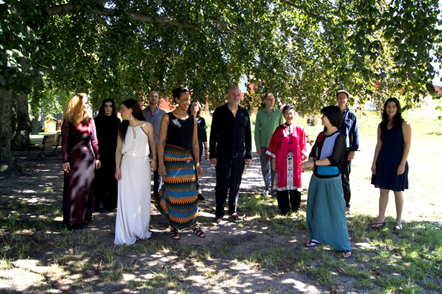 Foto: M. Dost


Vocals :
Vivien Lee - China

Cymin Samawatie - Iran
Nestan Bagration-Davitashvili - Georgia
Beatrice Asare Lartey - Ghana
Christina Fronista - Greece
Tamara Hörbe - Germany

Musicians :
Hui-Chun Lin, Cello - Taiwan
Andreas Willers, Guitar
Peter Van Huffel, Saxophone
Andreas Henze, Bass
Sunk Pöschl, Drums
Dorothea Mader, Piano, Flute
Berit Zemke, Video artist



"Take my Otherness" is based on concepts in Bjung Chul Han's book
"Hyperculturality-Culture and Globalisation", that has a critical perspective
on today's time management and understanding of progress that only
emphasizes acceleration. The themes of this philosophical discussion
are home, globalisation, world conflicts and peace. They are being reflected
in this opera from the point of view of the singers and musicians, as well
as various European authors and philosophers.
Each of the musicians brought in their own special and personal experiences
in forms of improvisation, composition, lyrics and dramaturgy throughout
the whole piece. Although no specific roles were planned in this opera a
miraclous mixture of diverse musical forms emerged and resulted in a
creative artistical work that is crossing all borders.
Each song is written in its original language and re-composed in styles
where traditional melodies merge into new compositions with emotions
like :fear, loss, stress, loneliness and hope, connected to specific female
experiences.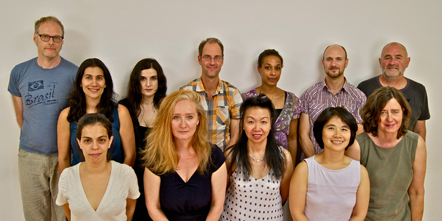 Foto: M. Dost

Pressematerial (pdf) zum download

Program
Poster
Flyer
Curriculum Vitae


Die CD ist in folgenden Shops erhältlich: